Is there a story behind the daily drama of your life?
Being a teenager isn't always easy. From homework to after-school jobs to having to think about the future, life can feel chaotic. But did you know that the chaos and confusion, as well as the joys and excitements you experience, are part of God's ordered plan?
In this teen adaptation of God's Story, Your Story, bestselling author Max Lucado explores the divine narrative in the New Testament, as well as several contemporary examples, to show how your everyday life is part of God's bigger redemption story, and that God is there, no matter what you may face in your life. Real teen responses and real-life application questions are also included to help you further connect God's narrative to your own. Because God's story is your story—and he is adding to your chapter every day.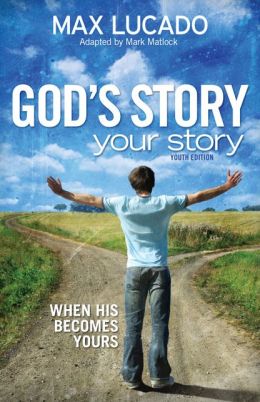 I bought this book a few months ago, because, well, it sounded really good.
I've never read anything by Max Lucado personally, but I know a few people who have.
After having this book on my shelf for a while I finally decided to read it, and a few hours later it was over half way finished. Over the next couple of days I had it completed.
This book was so rich with spiritual truth that I found it hard to put down.
I love Jesus with all my heart and everyday that I read this book my heart felt so full and I was reminded how incredible it is that Jesus chose me to be called his child!
I really, really, loved this book! The truths shared in this book are very important, very vital, but very simple and practical.
Having grown up in a Christian family and church I've heard most of what Lucado said in this book before, but somehow it felt more personally directed at me. While I knew most of these things it's never bad to have Jesus come and remind me who I am in him, and who he is and what he can do with me if I just let his story become my story.
Oh, and keep your Bible handy while reading, this book is loaded with scripture!
There wasn't a chapter that I didn't take my highlighter to! I think I am in need of a new blue highlighter now....
Also in the back of the book there is a bunch of questions for each chapter, I unfortunately didn't find them until I'd finished the book. :-(
There were also several different testimonies from teens that were encouraging to read.
Title - God's Story, Your Story *Youth Edition
Author - Max Lucado
Pages - 213
Type of Book - Christian YA nonfiction
Website -
http://maxlucado.com/